Denmark: Snack companies do battle over square crisps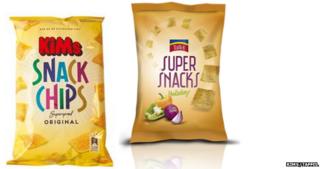 A Danish company has gone to court to try to stop a rival from making square-shaped crisps, it's reported.
Snack manufacturer Kims has been selling the square, ridged Snack Chips for almost three decades in Denmark. But this year saw the arrival of a competitor crisp - Taffel's Super Snacks, which are a similar shape and size. Kims now wants a judge to rule that it has the exclusive right to sell square crisps in Denmark, the Ekstra Bladet website reports. In the meantime, Taffel has agreed to change the shape of its Super Snacks from square to oval - a more expensive shape to produce.
"In our opinion you can't own a square," says Taffel's managing director Chris Samways. "It's a generic shape - owning it will inhibit competition and reduce choice for consumers." Mr Samways adds that Taffel's sister company, Pellsnack, has been making the semi-finished product - the square-shaped potato "pellets" - and selling it to Kims for more than 20 years. A final court ruling is expected later in the year.
There was disbelief among many Danish social media users over the issue, but some could see both sides. "In principle I agree, but it doesn't help Taffel's case that they chose to name their product in a similar way to Kims," says one person writing on the Ekstra Bladet site. Another person says sarcastically: "I would also be angry if I had been so innovative as to invent a square crisp."
Next story: Mass wedding for North Korean defectors
Use #NewsfromElsewhere to stay up-to-date with our reports via Twitter.