Turkey: Mayor orders cleaning to stop over littering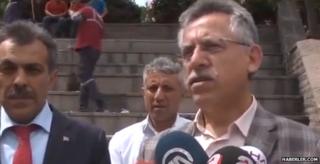 A Turkish mayor has protested against littering in his city's main square by ordering all cleaning of the area to cease, it's reported.
Kazim Arslan, the mayor of Yozgat, in central Turkey, told sanitation workers to bypass the square for 10 days so that local people could see exactly how much mess they make, the Haberler website reports. The area - a popular hangout - is often strewn with the shells of sunflower seeds, a popular Turkish snack, as well as food packets and cigarette butts.
Mr Arslan says if the city doesn't take a stand then people will continue to litter, knowing that someone else will come along and clean up after them. Some people didn't seem deterred by the mounting waste, though, and continued to sit on the square regardless.
"We won't make any concessions. We will change these bad habits," the mayor tells Haberler. A team of cleaners tackled the accumulated rubbish once the 10 days were over, but the mayor hopes he has proven a point. "I hope the people will look after their city," the mayor says. "Nobody has the right to think 'we will litter, the municipality will clean it up'."
Next story: Italy's Beppe Grillo under fire for migrant tweet
Use #NewsfromElsewhere to stay up-to-date with our reports via Twitter.