Israel: Soldiers petition against new beard restrictions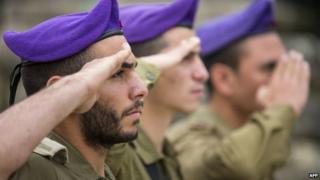 The Israeli army is tightening the rules on soldiers growing beards, prompting an online protest from within its ranks, it's reported.
Israeli soldiers are meant to be clean-shaven unless officers grant them exemptions on religious or medical grounds. But the army has decided that some officers are approving beards too readily, leading to a lack of uniformity between brigades, so it has decided to tighten up the rules, the Ynet website reports. From 1 July, troops without a certificate from a chaplain or medic will only be granted permission to avoid razors in exceptional circumstances.
"There are too many soldiers who grew beards for reasons of faith who we then see walking around smoking, or driving on the Sabbath," one officer says, highlighting activities banned by Jewish religious law. After a two-month grace period, anyone violating the new rules will be fined or confined to quarters.
But uniformed facial hair fans are fighting back on social media. "Real soldiers don't have time to shave," declares a post on a Facebook page popular with Israeli soldiers. The post, which demands a repeal of the order, has already garnered more than 12,000 likes. Many serving soldiers have posted photographs of their own beards, and one asks whether some chin-fuzz is too much to ask for after putting up with all the hardships of army life.
The new rules are more popular with sergeant-majors, though, one of whom tells Ynet that unsanctioned beards are the thin end of a wedge that leads to "sloppy drills and unpolished boots", and squaddies who look more like "militiamen than regular soldiers".
Next story: Turkish mayor's cleaning protest over litter
Use #NewsfromElsewhere to stay up-to-date with our reports via Twitter.