North Korea: Mount Paektu race open to foreign runners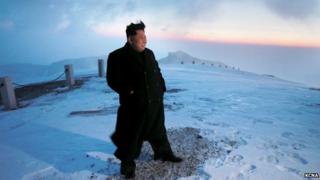 Foreign runners will be allowed to take part in the first half-marathon on North Korea's highest peak, it's reported.
The authorities in Pyongyang have approved foreign participation in the August race around Mount Paektu, an active volcano and one of the country's most sacred sites, The Korea Times reports. But the nature of North Korea's strictly controlled tourism industry means runners will first have to take part in several days of organised activities, including two days in the capital city. The race comes on the penultimate day of the five-day trip.
The half-marathon trip is being organised by Koryo Tours, a travel company based in China. "We decided to make Mount Paektu a new itinerary as people often ask to see more of the countryside," company founder Simon Cockerell tells the website. "This is a remote area and a beautiful place to run in."
Mount Paektu holds a special place in North Korea's national identity. The country's founder, Kim Il-sung, is said to have fought the Japanese from its slopes, and it's the reputed birthplace of former leader Kim Jong-il, although historians say he was really born in Russia. In April, state media claimed that current leader Kim Jong-un had climbed to the top of the 2,744m (9,003ft) peak.
Next story: New autonomous drone for Fukushima reactors
Use #NewsfromElsewhere to stay up-to-date with our reports via Twitter.