Russia: Boxing promoter tells 'ring girls' to cover up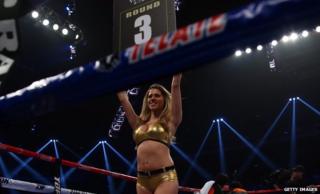 They are a familiar sight at boxing matches around the world, but scantily clad "ring girls" will soon be a thing of the past in Russia.
The head of Mir Boksa, the country's main boxing promoter, says that the women will have to cover up in future so that both fighters and fans of different cultures and religions feel comfortable. "Muslim boxers take to the ring, and we respect them," Andrei Ryabinsky tells the Tass news agency. "This is a serious international sporting event, not a strip club," he says, adding that he wants the women to look "beautiful, but modest and tasteful" in future. Ring girls' main task if to show the audience which round of the bout is being fought by holding up numbered signs.
The announcement has been met with alarm among many sports commentators online. "Absurd - how did we end up like this?" asks boxing expert Andrey Bazdrev on the popular sports.ru website. "Strictly speaking, fist-fighting is entertainment beyond the limits of religion. This is an absolutely secular event. If you don't like it - don't attend." There's similar bewilderment elsewhere, with the state-run Rossiiskaya Gazeta saying it's "difficult to imagine a boxing match without the ring girls' revealing outfits".
Many boxing fans commenting on the sport.ru website were against the move, with some disgruntled at the idea of religion being mixed with sport. "What's religion got to do with it anyway? Boxing is a show. It's not a church, mosque or synagogue," one person writes. Another user, proving that feminism has a long way to go in the sport in Russia, says boxing stopped being an exciting spectacle a long time ago, "but watching boring boxing without at least having some nice chicks to look at, that's just taking it too far".
Next story: Iceland revellers invited to glacier rave
Use #NewsfromElsewhere to stay up-to-date with our reports via Twitter.