Japan: Monument honours insects killed by humans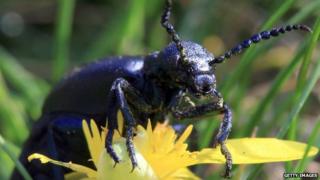 A new monument has been built at a temple in Japan in memory of insects which have met an untimely end at the hands of human beings, it's reported.
The monument features an oversized beetle-like creature clambering over a rock, encircled by wire mesh cages. Anatomist Takeshi Yoro is the man behind the idea, driven by a life-long love of bugs, the Kyodo News agency reports. He hopes the monument will console the souls of the insects he has collected, and also send an environmental message. "I hope people will be fully aware what kind of an era it would be without insects," Mr Yoro tells the agency.
The site was inaugurated on Thursday at the Kenchoji Temple in Kamakura, just south of Tokyo. A group of about 50 people joined Mr Yoro at the service, which included a monk reading Buddhist sutras.
Monuments honouring insects are not particularly common, but the American city of Enterprise, in the southern state of Alabama, boasts a similar sight. It has what the city's website describes as "the world's only monument to an agricultural pest" - the boll weevil. The statue of a woman holding a giant beetle aloft was erected in 1919 "in profound appreciation" of the havoc wrought by the boll weevil on the area's cotton fields. Abandoning cotton production, farmers turned to other crops and the town promptly prospered.
Next story: Chinese man buys car using 660,000 coins
Use #NewsfromElsewhere to stay up-to-date with our reports via Twitter.