Turkey: Vets issue mock election warning to cats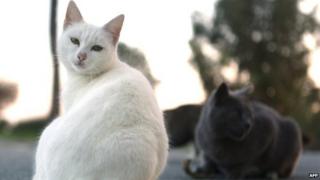 Turkey's vets have poked fun at the country's authorities by jokingly warning cats not to disrupt this Sunday's parliamentary election.
Istanbul's Chamber of Veterinary Surgeons issued a tongue-in-cheek statement asking the animals not to get up to any mischief that might affect the results, the Hurriyet Daily News reports. It's a reference to remarks in 2014 by energy minister Taner Yildiz blaming power cuts during local elections on a cat walking into a transformer unit - a claim widely mocked on social media.
The vets' playful letter warns cats that there will be consequences if they are implicated in any trouble this time around. "We warn our cat friends: stay away from power distribution units. Otherwise we will reconsider our friendly relationship with you," the statement reads. It goes on to urge the felines to avoid doing anything which might "cause the authorities difficulty" or disappoint the millions of people who will be going to the polls.
The 2014 power cuts occurred during vote counting, leading some people to allege election fraud. At the time, Mr Yildiz stressed that he wasn't joking about a cat being to blame, and said it wasn't the first time it had happened. One Council of Europe election official recently described the cat claim as "shameful". In April, Turkey's chief electoral officer reassured voters that the forthcoming election would be a feline-free affair, joking: "We caught all the cats. No more cats left."
Next story: Japan mulls fitting toilets in lifts
Use #NewsfromElsewhere to stay up-to-date with our reports via Twitter.