Iran: Controversy over 'extravagant' Khomeini shrine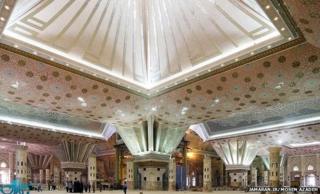 A huge renovation project at a shrine for Iran's revolutionary leader has been criticised as too extravagant.
Conservative websites and social media users have slammed the modifications to Ayatollah Ruhollah Khomeini's mausoleum in southern Tehran. The ayatollah led the country's Islamic Revolution in 1979, and his supporters say he had an austere lifestyle, living in a simple house until his death in 1989. But the conservative Alef website says the renovated shrine is more reminiscent of houses in "Hollywood films" or "the myths of Persian kings". It warns that the project is so over the top that it could put off destitute people, who Ayatollah Khomeini described as "the real owners of the revolution". An editorial in the moderate conservative Jomhuriy-e Eslami daily agrees that the project is incompatible with the late leader's principles.
There are similar sentiments on social media, where both conservative and opposition web users criticise the "extravagant" building. A poll run by one conservative website found that most readers disapproved of the project, and on Twitter an opposition supporter describes it as "Khomeini's palace built by the money of the oppressed slum dwellers."
The finished project will be unveiled on 4 June at the annual commemoration of the ayatollah's death. The man in charge of the ceremony says the shrine is a "magnificent and national project", and that criticisms are unfair. Mohammad Ali Ansari says the site has been built to last 500 years and is meant to honour Iran's people, but he refuses to be drawn on exactly how much the work has cost.
Next story: Bulgaria mayor sprinkles sugar to stop road accidents
Use #NewsfromElsewhere to stay up-to-date with our reports via Twitter.