Poland: Fringe candidates enliven presidential race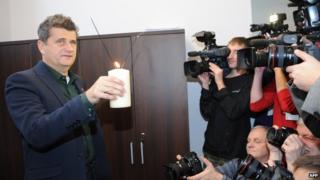 When Polish voters head out to elect a new president on Sunday there will be some unconventional choices on offer.
While so far it looks like being a two-horse race between incumbent President Bronislaw Komorowski and opposition candidate Andrzej Duda, a number of other hopefuls are attracting media attention. Among them is Janusz Palikot, who was notorious before even entering the race. In 2008, the politician turned up for a TV interview brandishing a bloodied pig's head, in what he described as a "mafia-esque" threat to Poland's football association, which he accused of corruption. On another occasion he appeared in public brandishing a sex toy and a gun, to protest against an alleged police rape. Mr Palikot is unlikely to win; his popularity among voters stands at about 2%, according to a recent poll.
A more popular choice is former chart-topping rock singer Pawel Kukiz. The 52-year-old says his presidential ambition isn't just "a rock-and-roll idea" or a joke. "I'm guided by big ideas," he says. The same poll puts Mr Kukiz, who describes himself as a "right-winger with a leftist heart", in third place, with about 9% of respondents saying they would vote for him.
And then there is the perennial candidacy of Janusz Korwin-Mikke. It's the right-wing, eurosceptic MEP's fifth attempt at running for president; he has been on the ballot at every election since 1995. Last year, he was admonished by his colleagues for using racially offensive language on the floor of the European Parliament, and another MEP has alleged that Mr Korwin-Mikke once hit him in the face. Despite his apparent eagerness to be president, he has previously expressed a desire for Poland to renounce democracy in favour of monarchy.
Next story: Egypt plans replica Pharos Lighthouse
Use #NewsfromElsewhere to stay up-to-date with our reports via Twitter.