Colombia: Journalist admits sending himself death threats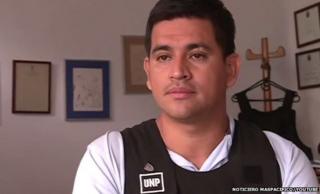 A Colombian journalist could face criminal charges after he admitted sending death threats to himself.
Yesid Toro, a crime reporter, says that he faked the threats because he didn't want to lose his state protection, the El Espectador website reports. In September, he went to the press with a flyer which listed his name alongside seven other journalists, and was purportedly signed by the Urabenos drug gang. But last week he admitted it had been all his own work. Now Colombia's National Protection Unit (UNP) says it will pursue criminal and civil proceedings against him for what it describes as an "irresponsible act which affected the lives and peace of mind of the other journalists".
The UNP had been providing security for Mr Toro because as a crime reporter he had faced other - authentic - death threats in the past. That protection was set to expire, but after the flyer emerged in September his security measures were extended. The department says it spent 114m pesos ($47,000; £31,000) on safeguarding the eight people named in the flyer. It says Mr Toro's security has now been withdrawn, and security measures for the other seven journalists will be reviewed.
Thousands of people are given UNP protection because they are deemed as being at risk of violence because of their work, among them more than 100 journalists. Colombia is one of the most dangerous places in the world to work as a journalist, with deaths, attacks and intimidation commonplace. According to the Committee to Protect Journalists, 42 media workers have been murdered since they started recording deaths in 1992, and in all but six cases, the killers were never caught.
Next story: New Zealand church ejects tai chi group
Use #NewsfromElsewhere to stay up-to-date with our reports via Twitter.