Russia: Red faces over Luftwaffe poster gaffe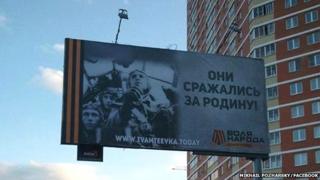 A Russian mayor has apologised after a billboard celebrating the Soviet victory in World War Two appeared on the streets of his town - adorned with a picture of a Nazi air force crew.
The signs appeared around the town of Ivanteyevka, just outside Moscow, ahead of Russia's Victory Day anniversary on 9 May. But it didn't take long for someone to notice that the troops featured weren't Soviet airmen, but a Luftwaffe bomber crew. The town's mayor, Sergei Gridnev says local people, war veterans and the whole of Russia can rest assured that he'll punish those responsible for the "appalling incident", the state news agency Tass reports. The local branch of the pro-Putin All-Russia People's Front says it spotted the billboard and demanded its removal, and 12 hours after it went up the offending image came right back down again.
The local news portal Ivanteyevka Today has since owned up to the gaffe. It commissioned 20 banners to mark the 70th anniversary of the end of the war, but confessed to "negligence" in choosing the photo, which was rather unfortunately emblazoned with the words: "They fought for the Motherland". The site does point out that the photo dates from 1940, a year before Germany attacked the Soviet Union, although this hasn't won it much sympathy among MPs and officials.
Next story: China's navy joins social media boom
Use #NewsfromElsewhere to stay up-to-date with our reports via Twitter.