Japan: Low-level radiation in drone found on PM's roof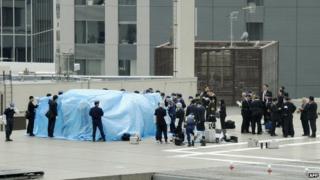 A drone carrying a tiny amount of radioactive material has been found on the roof of the Japanese prime minister's office in Tokyo.
The four-propeller device was found on top of the building on Wednesday morning, and was carrying a container of liquid which was marked with a radiation warning symbol, the public broadcaster NHK reports. The 50cm (20in) wide drone was also equipped with a small camera. Police say "minute" levels of radiation were detected on the drone, which they think is likely to be radioactive caesium, but that the amount is too low to be harmful to human health. Prime Minister Shinzo Abe wasn't in the building at the time, as he's currently in Indonesia.
It's not yet known who landed the device on the building. According to NHK, it's perfectly legal to fly a drone at a low altitude over the prime minister's office. Unlike in some countries, Japan doesn't yet regulate low-altitude drone flights except around airports, although officials are looking into changing the law as the remote-controlled devices become more popular.
Next story: NZ council tries to thwart wallaby advance
Use #NewsfromElsewhere to stay up-to-date with our reports via Twitter.