Russia: Police stage mayor's disappearance to thwart killing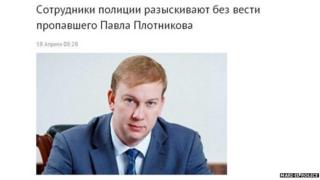 Police in Russia have staged the disappearance of a city mayor to prevent his contract killing, it's reported.
Pavel Plotnikov, the mayor of Yoshkar Ola in central Russia, was reported missing on Saturday, after apparently failing to meet his wife as planned a day earlier. "All police patrols, criminal investigators - practically all police in Yoshkar Ola" were looking for the mayor, the city's police spokeswoman Olga Plotnikova told the media at the time. But early on Monday, the mayor's own website issued a statement saying that his disappearance had actually been staged. "The mayor's 'disappearance' was necessitated by operational activities of Russia's Interior Ministry staff," the statement says. "They implemented measures to prevent a planned killing of the mayor and his family."
Later in the day, Mr Plotnikov gave a news conference to shed more light on what had happened. Because of his "principled position", the mayor said, he was supposed to have been killed in a forest some time between Friday night and Saturday morning. Thanks to swift action by the security services, the would-be killers and those who took out a contract on the mayor have been arrested, Mr Plotnikov told the news conference, adding: "Many thanks to the police for saving my life." The police have simply said that the mayor "has been found" and that "he's alive and well, and is currently with his family".
Next story: Lazy Chinese officials sent to military-style retraining
Use #NewsfromElsewhere to stay up-to-date with our reports via Twitter.