Egypt: Journalist defends taking her son to work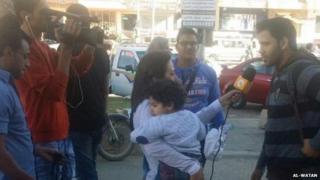 An Egyptian journalist has defended herself after being subjected to criticism for taking her son to work.
Lamia Hamdin, who works for the private channel ON TV, was photographed recording interviews with people in a Cairo street while carrying her young son. "My son was sick and I had to work later than expected so I went and got him from the nursery. I could not leave him anywhere else," Ms Hamdin was quoted as saying on the Al-Watan news website. But while many social media users praised the journalist, others accused her of being unprofessional, with some even calling for her to be sacked.
That prompted many people to spring to her defence, with some comparing her to Italian MEP Licia Ronzulli, who in 2010 famously began taking her daughter Vittoria to work. One Twitter user described Ms Hamdin as "the ideal mother", and another person said: "Mrs #Lamia_Hamdin, who was carrying out her job in addition to playing her role as a mum, is way stronger than anyone who mocked her." Ms Hamdin says she was just doing what she had to do as a working mother, and shouldn't be criticised. "I was struggling and he had to go through this with me - it was no picnic," she says.
Next story: India-Pakistan goodwill over Yemen rescue
Use #NewsfromElsewhere to stay up-to-date with our reports via Twitter.