Italy: Diary of a Wimpy Kid translated into Latin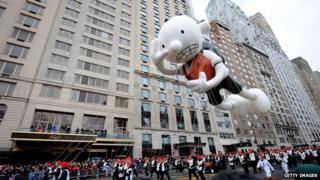 The best-selling children's book Diary of a Wimpy Kid has been translated into Latin by a Vatican official.
The book, about the school-day struggles of a boy named Greg, is the first in a series written by American author Jeff Kinney, which has sold more than 150m copies worldwide. It's been translated by Monsignor Daniel B Gallagher, a Latin specialist who also curates the Pope's Twitter feed in the ancient language. Commentarii de Inepto Puero, as the new version is titled, will be published in Italy on 6 May, with releases in Europe and the rest of the world planned for later in the year.
"It was really fun writing more than 140 characters in Latin," Monsignor Gallagher tells the Ansa news agency, referring to the limited length of a tweet. Translating modern fiction into a 2,000-year-old language has its challenges, though. Some words and concepts just didn't exist in Roman times. "There is no equivalent for the phrase 'cross your fingers' in Latin," he explains. To convey the idea he had to be more descriptive and "explain the superstition in another way".
Author Kinney says he hopes the new version is a "more attractive way than others" of approaching Latin. And one of the initial 10,000 copies being printed may even end up in the hands of Pope Francis. "His Latin is very good and he will certainly enjoy it," Monsignor Gallagher says.
Next story: Indian police enforce beef ban with cow 'mugshots'
Use #NewsfromElsewhere to stay up-to-date with our reports via Twitter.