South Korea: Defectors from North struggle with debt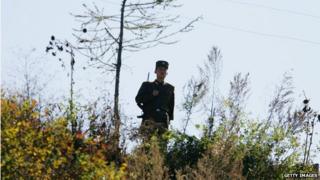 Defectors recently arrived in the South after defecting from North Korea are finding themselves deep in debt as the result of dealing with people smugglers, it's been reported.
Despite grants from the South Korean government's resettlement programme, many refugees still owe large sums to the brokers who helped escape the North, the Chosun Ilbo newspaper reports. They also struggle with mental problems as a result of their ordeal, the Korea Hana Foundation, which handles the resettlement of North Koreans, says. With a heavily fortified border between North and South, North Koreans who wish to defect must cross the border with China, risking being caught and repatriated by the Chinese authorities, followed by a prison sentence back home. Many rely on people smugglers to help them arrive in South Korea, with the brokers often demanding payment greater than the 6m won ($5,300; £3,600) grant paid by the Seoul government to help them settle.
One family of three told Chosun Ilbo that after receiving 18m won, they still owe brokers 10m won, and the 1m government support per month isn't enough to prevent them slipping into debt. "I thought my life here would be like a TV soap where everyone lives happily ever after, but the minute we stepped out of Hanawon [resettlement centre], I found myself already chin-deep in debt with no idea how to repay it," Kim Young-mi told the paper. Many end up in casual labour in a bid to pay off their debts, with Nam Young-hwa of the Women's Association for the Future of Korean Peninsula telling Chosun Ilbo that many pay the brokers without thinking of the consequences. "It's only when they arrive here that the reality hits them... it often triggers physical and emotional suffering."
In fact, around 20% of North Korean defectors harbour suicidal thoughts, Korea Hana Foundation says, a figure three times higher than the South Korean average. The agency says many suffer post-traumatic stress disorder due to the harrowing circumstances of their escape, and live with the guilt of having left family members behind. Other factors include the stress of living in the South where discrimination and loneliness are a way of life amongst defectors.
Use #NewsfromElsewhere to stay up-to-date with our reports via Twitter.