New Zealand: Armed forces seek bomb disposal experts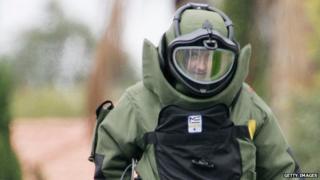 New Zealand's defence force is advertising for highly-motivated problem-solvers to join its bomb disposal team, it's reported.
Articles have appeared in the country's Defence Force publications calling out for applicants for a newly-created Explosive Ordinance Disposal (EOD) Operator trade, the New Zealand Herald reports. One article, in the Army News magazine, calls for "individuals who are mature, physically fit, highly motivated and have the ability to solve complex problems". The article also says that "an aptitude for mechanics, electronics and chemistry is necessary, as is the ability to be capable of operating in a small team in high risk, high consequence situations". The new posts come after the head of the army created the new EOD Operator trade in January to defend against chemical, biological, radiological, nuclear and explosive hazards and threats in both military and civilian environments.
The New Zealand Herald says that the new recruitment drive, which is open to existing forces personnel and new recruits, is not linked to the NZ government's decision to send troops to Iraq to train local forces for operations against Islamic State militants.
Use #NewsfromElsewhere to stay up-to-date with our reports via Twitter.