Denmark: Moles help dig at archaeological site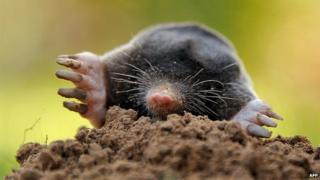 Moles are being used by a museum in northern Denmark to help gather information on an archaeological site, it's been reported.
The Danish culture agency - Kulturstyrelsen - initially thought the application by Viborg Museum was a joke, the Copenhagen Post reports. But after realizing the idea was legitimate they approved it. Now the velvety creatures are being to be used at a site south of Viborg, where archaeologists believe the remains of a fort from the Middle Ages lie hidden beneath the surface. The museum analyses the contents of mole hills that the animals leave behind after burrowing - the moles' "finds" help archaeologists work out where buildings are located underground. Jesper Hjermind, the archaeologist who came up with the idea, says it's based on moles bringing bits of pottery and other items to the surface. "The closer we get to a building, the higher the content of items per litre we find," he says. "It's simple, but it works."
Mr Hjermind has dubbed the practice "moleology", and says it can be as effective as more technical research methods. "The huge reward is that we haven't destroyed anything at the historical mounds in order to get a lot of important information," he says. In 2013, dozens of volunteers were drafted in to sift through mole hills at the site of a Roman fort in northern England. Archaeological digs are forbidden there because it's a scheduled ancient monument, but the moles unearthed numerous artefacts, including a decorative bronze dolphin.
Use #NewsfromElsewhere to stay up-to-date with our reports via Twitter.