Saudi Arabia: Women 'turning down attractive maids'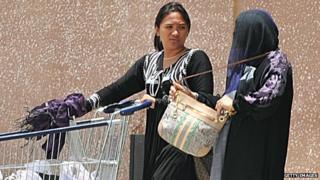 Women in Saudi Arabia are insisting that their housemaids aren't good-looking when it comes to recruitment, it seems.
Recruitment companies in the kingdom claim that wives are demanding to see photographs of prospective staff to ensure maids arriving from Morocco or Chile are not beautiful, Saudi Arabia's Sabq newspaper, quoted by Emirates 24/7, reports. The paper says that it has spoken to women who refused to hire maids from those countries because of a fear that a pretty employee could cause problems within the family. "Some wives have already contacted us to say that if their husbands want maids from Chile or Morocco, they must first see the maids before accepting them," Eid Abu Fahd, director of a recruitment office in Jeddah, tells Sabq. "Their main condition was that these maids should not be pretty."
Hiring a foreign worker takes time and money in Saudi Arabia. Visa and sponsorship rules means it takes up to six months and 22,000 rials ($5,900; £3,800) to recruit from Chile, which was recently added to the list of countries from which domestic workers can be drawn. The rights of foreign household staff in the Gulf region have long been an issue, and there's a thriving black market trading maids and drivers who have run away from their original employers, Arab News says. Last year, Kenya suspended the operation of agencies recruiting workers for the Middle East citing "numerous" mistreatment claims, and Indonesia's new president, Joko Widodo, has accelerated plans to stop women working as maids overseas to "preserve the country's dignity".
Use #NewsfromElsewhere to stay up-to-date with our reports via Twitter.