Denmark: Fishing boat catches WW2 mustard gas bomb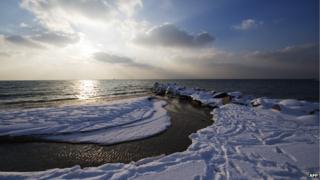 Danish fishermen reeled in a particularly dangerous catch during an trawl in the Baltic Sea - a mustard gas bomb from World War Two.
The fishing cutter caught the unexploded German ordnance in the sea around the island of Bornholm, which lies just south of Sweden, the Bornholm Tidende news website reports. A navy bomb disposal team met the boat as it docked in the harbour in the town of Nexo, after the crew called ahead to report what it had aboard. It was then given a thorough cleaning by the Danish Emergency Management Agency (DEMA), in case any of the mustard gas had escaped, the website says. "The bomb was well preserved," says DEMA spokesman Michael Gronbech-Dam, adding that it is about 90cm long. Mr Gronbech-Dam say it's unlikely the gas has leaked, but officials aren't taking any chances.
The Baltic Sea is a well-known burial ground for unexploded WW2 bombs. In 2013, Spiegel Online reported that tens of millions of leftover munitions - including detonators and shells - lie on the North and Baltic Sea beds, and high-risk areas are marked on nautical charts. But it's a lucrative fishing area, and in the past fishermen have been injured after coming into contact with mustard gas from corroding bombs. In 1984, more than 30 fishing boats were contaminated in the space of three months, and a dozen fishermen suffered burns.
Use #NewsfromElsewhere to stay up-to-date with our reports via Twitter.