Denmark: Superhero name change rejected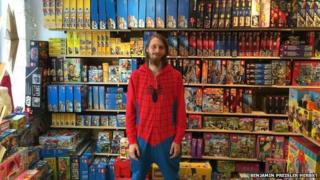 A man who wants to call himself Superhero has been thwarted by naming authorities in Denmark.
Benjamin Preisler Herbst owns a toy shop in Copenhagen and says his life revolves around the comic book characters. He wants to add the term to the start of his existing name, but officials are having none of it. "The word superhero is a term for a fictional/non-existent figure," reads a rejection letter from the naming authorities, according to the Jyllands-Posten website. "We don't believe that Superhero lives up to the criteria for being approved as a boy's name." A recent French court decision stopped parents from naming their child Nutella on the grounds it would make her a target of mockery. But Mr Herbst is 26 years old, and says adults should be free to make their own decisions. "I fully understand that people under 18 should be protected from being named silly names by their parents," he tells the BBC. "But I think it should be up to adults to change their own name to whatever they want."
Danish authorities have approved unusual names in the past, including Balcony for a girl, Gin - which is considered unisex - and Gandalf. Mr Herbst says Superhero is no sillier. "We only have one life, so why should the authorities be in charge of what we want to be known as?" For now his battle continues, with plans to appeal the decision and an online petition to gather support. In the meantime, Mr Herbst has some other names to choose, as he'll soon be a father to twins. "They will not be called Superhero or anything similar. They should not be bullied in school for my silly ideas" he says. "Let them be the the ones to make the call about any name changing when they are ready!"
Use #NewsfromElsewhere to stay up-to-date with our reports via Twitter.