Egypt: Woman dons wedding dress over 'single stigma'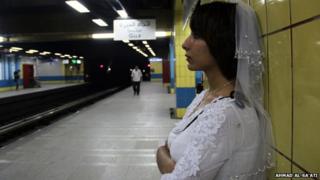 A woman in Egypt has tried to break the social taboo associated with unmarried women by wandering around Cairo in a wedding dress.
Samah Hamdi, 27, wants to shed light on what she says is the stigma attached to single women in the country, Ahram Online reports. She was photographed at various sites in the Egyptian capital over the course of a year, wearing a floor-length white wedding dress and veil. Miss Hamdi, an interior designer who's also studying a Master's degree in performance arts, says she has often bickered with family over the idea that she is "late" to tie the knot. "No matter how accomplished you are, that won't count if you aren't married or haven't undertaken the mission you were purportedly created for: getting married and establishing a family," she tells the website.
Dozens of comments have been posted on her Facebook page. "Bravo. It is a sickening society," says Mostafa Shalaby. But another user, Moshira Ortiz, says: "A person who doesn't have children while young will have nobody to look after them in old age." A video of her wedding dress wanderings won an award in November, but the project hasn't helped her at home, where she says her mother still considers her a "spinster". Many Egyptians do remain single beyond their twenties; official statistics in 2011 showed that about nine million people had reached the age of 33 without getting married, and nearly half were women, Ahram Online adds.
Use #NewsfromElsewhere to stay up-to-date with our reports via Twitter.