Romania: Protests over 'revolution perks' cut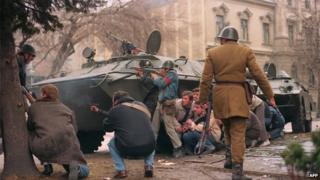 Romanians who took part in the country's 1989 revolution have protested against a government decision to cut their benefits, it's reported.
There are about 22,000 people who currently hold certificates granting them certain extra privileges such as free train travel, but 6,000 also get a monthly payment of 1,900 lei ($500; £330), the Balkan Insight website reports. The government scrapped that payment in December and announced that people would have to get new certificates stating they had played an "important role" in the revolution. Protesters took to the streets of the capital, Bucharest, for several days to call for a change to the new rules, the website says. "The government has to withdraw the law, as it leaves many revolutionaries without the means to live," one protest leader is quoted as saying. "Seven of us are already on hunger strike, and we have decided to continue the protests."
In December, Romania marked the 25th anniversary of the revolution. More than 1,100 people died during an uprising which saw the Communist dictator Nicolae Ceausescu ousted from power, and subsequently executed along with his wife on Christmas Day 1989. Most of the deaths came after Ceausescu was toppled, in street battles which claimed more than 900 lives.
Use #NewsfromElsewhere to stay up-to-date with our reports via Twitter.