Italy: Viaduct partially collapses days after opening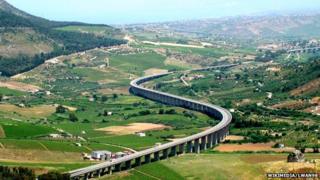 Part of a brand new viaduct in Sicily has collapsed only days after opening, it's reported.
The Scorciavacche viaduct in Palermo province was completed three months ahead of schedule and opened to traffic on 23 December, but within 10 days a section of the 13m-euro ($15.5m; £10.2m) road collapsed due to subsidence, La Repubblica website reports. No cars were on the viaduct at the time because workers had already closed it as a precautionary measure, according Pietro Ciucci, who heads Anas, the company responsible for Italy's roads. Mr Ciucci has played down the incident, suggesting that the media are exaggerating what happened. But a photograph published on many Italian media sites apparently of the damaged road showed one section had subsided significantly.
Prosecutors have now launched an investigation, and Prime Minister Matteo Renzi used his social media accounts to lambast those involved. "I demand that Anas name the person responsible. It will pay for everything," he tweeted, before adding the hashtag #thepartyisover. The country's transport minister, Maurizio Lupi, described the incident as "unprecedented and unacceptable". It's only six months since Sicily witnessed a similar incident. In July, a bridge in the southern Agrigento province collapsed while cars were on it, leaving four people injured.
Use #NewsfromElsewhere to stay up-to-date with our reports via Twitter.