South Korea: Cigarette sales plummet after price hike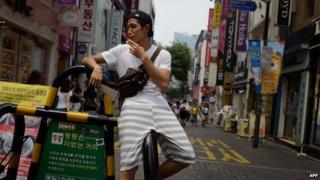 Tobacco sales have fallen sharply in South Korea after the price of cigarettes nearly doubled on New Year's Day, it's reported.
Last year, the country's parliament approved an 80% increase in the price of cigarettes, from 2,500 won ($2.25; £1.47) per packet to 4,500 won, in an effort to curb smoking. Tobacco sales fell by nearly half on New Year's Day compared to the previous year, industry sources tell the Korea Herald website, although some observers say the drop could also be because of "hoarding" prior to the price rise. The government is hoping it's a longer-term trend, and is forecasting that cigarette sales will fall by 34% in 2015. The country's smoking ban has also been expanded to include restaurants, bars and cafes of all sizes. It previously only applied to larger establishments.
But the new policies have prompted a warning from the Koreans Smokers' Association. "If the government keeps pushing out smokers, they will not only find alternate places to smoke but also become more and more defiant against the policy," the organisation's president, Shin Min-hyeong, tells the Korea Joongang Daily. Smokers who don't fancy shelling out on a whole pack do have another option: Corner shops have started selling individual cigarettes again, the Korea Herald says, something that hasn't been seen in the country for years.
Use #NewsfromElsewhere to stay up-to-date with our reports via Twitter.