Italy: Romans unhappy at cobblestone 'exchange' plan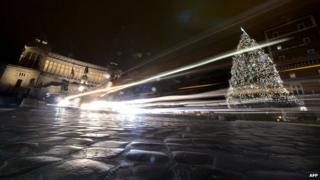 A proposal to rip up Rome's traditional cobbled streets and offer the stones to private businesses who carry out resurfacing works has caused consternation among some residents, it's reported.
Large areas of the city's historic centre, including major thoroughfares used by buses, are paved with cobbles. While they may add to the Italian capital's charm, the council wants to replace the stones with asphalt, saying it will make roads safer for drivers and pedestrians, and require less maintenance. Now city councillor Maurizio Pucci has suggested offering the old cobblestones to companies in exchange for carrying out the work. "The cobblestones have a flourishing market, both Italian and international," he tells the Corriere della Sera newspaper . "We will give them to businesses, they have value," he says.
But some Romans are unhappy about what they see as pieces of the Eternal City being sold off. Several internet users are in favour of the plan, saying the stones are noisy and unsafe, but many leave colourful, sarcastic comments. "These thieves have not yet finished stealing. Leave OUR cobblestones alone!" says one user on the Ansa news agency's website. "All the other ruins too, then: we'll do a clean sweep, just keeping the Colosseum and the Ara Pacis and the rest we'll sell to the Chinese," another writes. "Also included in the price a councillor for public works, brand new, never used!"
Use #NewsfromElsewhere to stay up-to-date with our reports via Twitter.