Russia: Fashion label uses Putin's face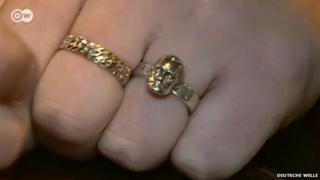 A fashion label is hoping to appeal to fans of Vladimir Putin by selling rings and clothing featuring the Russian president's face, it's been reported.
The Moscow-based brand is called Putinversteher - a German word meaning a Putin sympathiser - and its first product is a silver ring topped with the president's head, the German international broadcaster Deutsche Welle reports. Designer Gleb Krainik says he wants the label to become popular outside Russia, and that a German name was chosen in order to "engage people in a dialogue". "It let's them see a new perspective, and a certain ideology," he says. Mr Krainik has a history of pro-Kremlin activities, having previously worked for government-backed youth organisations, according to the Swiss newspaper Neue Zuercher Zeitung. He sees the fashion range as part of a worldwide "information war" in which Russia and especially Putin are often depicted in a bad light, it says. "The aim is to make it easier for the world to understand Russia," he tells the paper.
One hundred of the silver rings were made initially, all of which have been sold. One of them now adorns the hand of Sergei Maksimov, who tells Deutsche Welle that Mr Putin is his role model, and he wears the ring day and night. "I'd love to be just like Vladimir Putin," he says. "I admire him as a person, he's very manly and strong."
Use #NewsfromElsewhere to stay up-to-date with our reports via Twitter.