China: Fake cops guard government building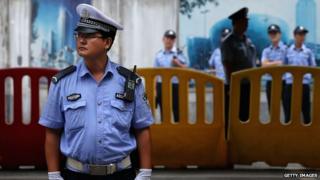 A local government in north-eastern China has admitted to using security guards to pose as police officers, it's been reported.
Despite the practice being illegal in China, the Jiamusi city government in Heilongjiang Province issued security guards with police uniforms and even assigned them a rank, Xinhua news agency reports. China's People Police Law stipulates that police insignias and uniforms are for the exclusive use of the police force. But local government official Zhang Hongbin says the "officers" were brought in to cope with the growing number of complaints filed by the public. "Thousands of petitioners forcibly enter the city government building every year. The situation was out of control sometimes, even when guards were wearing police uniforms," he says.
The government in Jiamusi had been using fake police officers since 2001, according to Xinhua. One guard told the agency "I've been using this police ID number and carrying a Class Three police rank for nearly seven years." Since the revelation, city authorities have "confiscated" all the uniforms, a spokesman for the government told the Global Times, adding, "We haven't heard about any punishment." Some Chinese media have accused the government of abusing the police's authority and using the guards to deter the public from lodging complaints. "This is an unwise and illegal way of avoiding the problem", the Beijing Times reports.
Use #NewsfromElsewhere to stay up-to-date with our reports via Twitter.