Finland: Helsinki loses out on awards show over hotels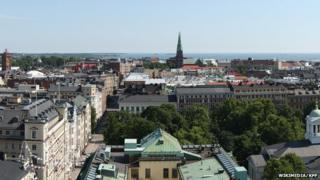 Helsinki has lost out on the chance to host a major music awards ceremony because it doesn't have enough swanky hotels, it's reported.
City officials had been hoping the annual MTV Europe Music Awards would come to the Finnish capital in 2016, but organisers have decided against it, the national broadcaster Yle reports. One of the factors working against Helsinki was the lack of five-star accommodation required by the music world's glitterati, the website says. "The city would be full of major stars and very high-level guests," says Marja-Leena Rinkineva, Helsinki's economic development director. "We're talking about many dozens, hundreds of such people, who would require hotel accommodation of the highest quality." But Jari Ahjoharju from the Helsinki Tourist Board says the reasoning "sounds a bit odd". "Helsinki has organised different types of world class and large events and there was sufficient accommodation capacity," he says.
Some social media users respond to the news with sarcasm, but not surprise. "Isn't it terrible that Helsinki doesn't arrange luxury palace-like accommodation for those youngsters who think they are kings and queens of the world!" says one user on the Ilta Sanomat newspaper website. "We should let them stay in the presidential palace and parliament building - nothing else will be good enough!" Some suggest the problem is how expensive the hotels are, but one user is unmoved: "Helsinki was good enough for the world's most powerful politicians but it isn't good enough for this lot. Who cares - we're not talking about good music anyway."
Use #NewsfromElsewhere to stay up-to-date with our reports via Twitter.