New Zealand: Police apologise to Irish for accent gaffe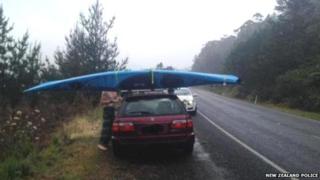 Police in New Zealand have apologised to "persons of Irish descent", after wrongly identifying a man who was pulled over in his car as being from the Emerald Isle based only on his accent.
The driver, Jonathan Waters, was stopped in the northern Coromandel region for having a kayak strapped sideways to the roof of the vehicle, and police issued a statement headlined: "What were you thinking? Police ask Irish tourist". Describing him as a "visitor from Ireland", the statement also mentioned other overseas tourists who had been involved in traffic collisions. But it turns out Mr Waters isn't Irish at all, and is from New Zealand's biggest city, Auckland. He tells the Stuff.nz website the wind was to blame for rotating the kayak, and the police officer had actually been helping him to rectify the problem, rather than reprimanding him for dangerous driving.
Now police say the officer involved had assumed the man was Irish due to his accent, but hadn't checked his identity documents, the New Zealand Herald reports. "While the man was a visitor to the region, he was not Irish and as a result Waikato police wish to offer an unreserved apology to any persons of Irish descent we may have offended," says Insp Freda Grace from the Waikato District police department. No ticket was issued because, according to Insp Grace, the officer "believed she was enhancing foreign relations". A police spokesman adds that while they haven't received any complaints, they felt it was better to "front foot it with an apology".
Use #NewsfromElsewhere to stay up-to-date with our reports via Twitter.