New Zealand: Giant paint-eating snail stopped at border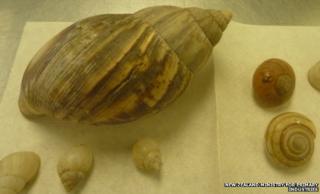 A huge snail the size of a human hand has been stopped from entering New Zealand by border officials, who say it could have caused huge environmental damage.
The Giant African Snail was stopped from "sliming a path of destruction" across the country, the Ministry for Primary Industries says, noting that it could have wreaked havoc on New Zealand's crop and forestry industries. It was declared by a couple at Auckland Airport after a flight from Madagascar, where they apparently collected it from a forest. "At nearly 15cm long, it was the largest Giant African Snail many of our staff had ever seen," says ministry official Craig Hughes. And the snail wasn't alone - it had brought its family along for the ride. "When our inspector tapped the shell, a number of eggs fell out," says Mr Hughes, adding that people often mistake the snails for empty shells. The Antipodean adventure was short-lived for the snail and its offspring, which were destroyed.
The Giant African Snail is an unwelcome guest in New Zealand because it eats the paint and plaster off buildings, destroys crops, and carries a parasite which can cause meningitis in humans, the New Zealand Herald reports. While hailing from a tropical climate, it can also survive in freezing cold temperatures by hibernating. The US state of Florida has been battling against the invasive species since 2011, destroying more than 140,000 of the animals in three years.
Use #NewsfromElsewhere to stay up-to-date with our reports via Twitter.