Italy: Northern League leader in shirtless photo spread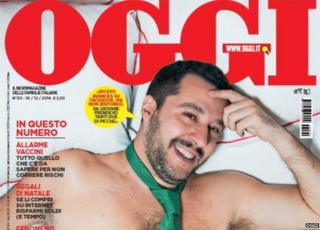 The head of Italy's right-wing Northern League party has raised eyebrows by posing semi-naked for a magazine cover.
Matteo Salvini, who is also a member of the European Parliament, is photographed in bed on the cover of Italian magazine Oggi, wearing nothing on top except a green tie. What lies beneath the sheets is left to the reader's imagination, although the magazine prints a more revealing photo on the inside pages to accompany a wide-ranging interview on the 41-year-old's political ambitions and personal life. "I'm not asking for your votes for my physical prowess. I should go to the gym, I know," he's quoted as saying in Corriere della Sera. "But I'm willing to do anything to showcase our ideas. Well, almost anything."
The image quickly went viral in Italy, but some Twitter users seemed more unsettled than impressed by the display of flesh. "After this, I'll have nightmares tonight and for the next six months," tweets Giorgio Mantoan. And several people say a female politician would have been lambasted for making a similar choice. "What if it had been a woman MP? They would have demanded her resignation," says Michela Colamussi. Mr Salvini may have bigger problems than the public's reaction. He told Rai TV that he's able to laugh at himself, but is sure the photo will make his mother angry.
Use #NewsfromElsewhere to stay up-to-date with our reports via Twitter.