Turkey: Court orders 'new face' for abused woman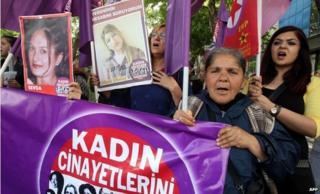 A court in Turkey has ordered the state to pay for a domestic violence victim to get a new identity - including giving her plastic surgery to change her appearance.
In a landmark ruling, the court in the western city of Izmir said the 20-year-old woman should be given a new identity in order to escape her abusive ex-boyfriend, according to The Daily Sabah website. She had already been granted a restraining order against the man after suffering "constant violence, threats and pressure", the website says, but the violence continued. In 2012, Turkey passed a law aimed at preventing violence against women, which gives judges the power to grant complete identity changes when a person's life is considered to be in danger. But according to the Turkish press this is the first time plastic surgery has been included in a ruling.
"Measures should have been taken to stop the man's violence, but this did not happen," the victim's lawyer is quoted as saying in the Hurriyet Daily News. "Of course, she is happy that she will leave that stressful life behind. But she is upset that she has to change her physical appearance," he says. The woman will also be given a new address, and change the university she is attending, with all costs being covered by the state. Despite legal advances, women's rights groups say violence against women in Turkey continues to rise. According to a report by the independent news agency Bianet, more than 200 women were murdered by men in 2013, and 66% of them were killed by partners or ex-partners.
Use #NewsfromElsewhere to stay up-to-date with our reports via Twitter.