Poland: First openly gay mayor rejects limo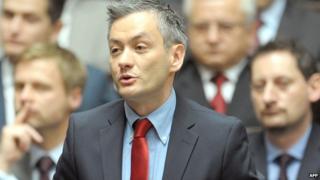 A newly-elected Polish mayor says he'll reject the three limousines at his disposal and travel to official engagements by bicycle, it's been reported.
Robert Biedron, who is already a member of Poland's parliament, is said to be the country's first openly gay mayor and MP, Polskie Radio's English-language news website reports. He won the mayoral election in the northern city of Slupsk in the second round of voting, despite initial opinion polls giving him little chance of victory. The city's debts mean he will "lead a very modest local government, as this town is modest", Mr Biedron tells Polish news agency PAP. "The three limousines which are available to the mayor will no longer be mine, as I go everywhere by bicycle," he says.
Mr Biedron, who is a noted gay rights campaigner and member of the liberal Your Movement party, told the Associated Press that his election shows just how much Poland has changed in the last 10 years. Historically a deeply conservative country dominated by the Catholic Church, a number of candidates in the recent elections revealed their sexuality in what's been dubbed "the Biedron effect" by local media. Mr Biedron had previously courted controversy in 2007, when his Campaign Against Homophobia posted billboards deliberately using terms of abuse for gay and lesbian people in Poland.
Use #NewsfromElsewhere to stay up-to-date with our reports via Twitter.