India: Gem trader funds 'mass fatherless wedding'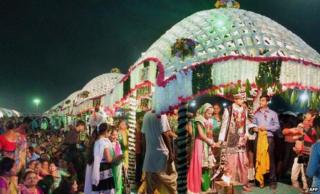 An Indian diamond trader has paid for more than 100 fatherless women to get married, it's reported.
Businessman Mahesh Savani hosted a mass wedding for 111 couples near the city of Surat, in the western state of Gujarat, the NDTV website reports. All of the women came from "humble" backgrounds and had lost their fathers, so wouldn't have been able to finance the nuptials themselves, the website says. On top of paying for the ceremony, Mr Savani, who describes himself as a "foster father" to the women, also shelled out on gifts worth up to 450,000 rupees ($7300; £4600) for each of them. "We gave them gold and silver ornaments, utensils, electronics items, clothes and all the expenses related to marriage," he says. He's also committed to paying for "post-marriage expenses", including maternity costs. Mass marriages are common in India as a way of cutting down on costs for poorer couples.
Mr Savani says he began funding weddings several years ago, after an employee died 12 days before he was due to marry off his two daughters. "I do not ask for any donations for the mass marriage. This is my endeavour, as there is nothing more pious than giving away a daughter in marriage," he was quoted as saying in The Times of India. One of the brides told the paper: "He is like a father not only to me but my brothers and sisters as well. I thank God for sending a person like him into my life."
Use #NewsfromElsewhere to stay up-to-date with our reports via Twitter.