Russia: Police officers take 'mum selfies'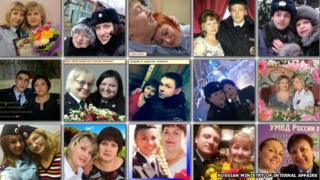 Russia's police officers have been taking selfies with their mums, in an apparent bid to increase public trust.
The initiative was announced by the Interior Ministry as part of celebrations for Mother's Day, which is observed in Russia on 30 November. More than 2,000 photos were submitted by officers across the country, the ministry says, and many have been published in an online gallery. "These are very gentle and warm selfies in which officers record themselves with the people dearest to them - their mothers," the ministry says on its website. Police officers have to show "total commitment" to their jobs, and need the support of their nearest and dearest, it says. "Maternal support is very important, especially for young officers who are just embarking on the profession."
Opposition leader Alexei Navalny tweeted an image of what appeared to be a letter instructing police officers to take part. It says seeing police with their mothers will "increase public confidence" and help the "formation of a positive image of the police". Officers were told to wear their uniforms in the photos, and were also asked to include a greeting for their mothers. "Mum - you gave me so much... my life and my wide road in life. The sky and the grass, the fields and the towns," one officer says. "Be proud of us and do not worry about us." Another simply writes: "Thank you for good upbringing. And for the tonnes of porridge every morning!"
Use #NewsfromElsewhere to stay up-to-date with our reports via Twitter.