Spain: Canaries sign up to underwater museum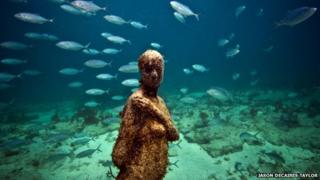 The Canary Islands plan to host Europe's first underwater museum, but it's a scheme that has run into local opposition, it's been reported.
British sculptor Jason deCaires Taylor, who has designed similar installations in Grenada and Mexico, has signed a contract with the government of the island of Lanzarote to arrange his ensembles on the seabed off Las Coloradas Beach, near the popular resort of Playa Blanca. He chose this site because the "amazing seascapes" will provide a "gateway to the Atlantic and encourage people to love the planet more through an understanding of marine life", reports the local Voz de Lanzarote newspaper.
The cement artworks, some modelled on local people, are designed to attract plant life and colonies of sea creatures. The Museo Atlantico Lanzarote will take two years to complete, wholly funded by the local government to the tune of at least 700,000 euros ($875,000; £500,000), with 2% of revenues earmarked for ecological research.
But not everyone is happy, the paper reports. Opposition parties of left and right complain that the public coastline authority has not been consulted, and some islanders question whether the money couldn't be better spent on healthcare.
Use #NewsfromElsewhere to stay up-to-date with our reports via Twitter.