Azerbaijan: European Games mascots rile fans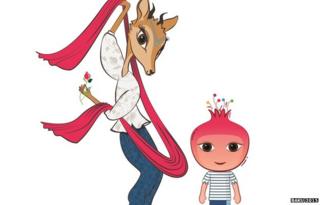 Sports fans in Azerbaijan are dismayed at the official mascots for the 2015 European Games in Azerbaijan, it seems.
The choice of a gazelle and a boy with a pomegranate for his head have been dismissed as "disgusting", "shameful" and "a disgrace" by people commenting online. However, organisers say the gazelle, Jeyran, is a symbol of "natural beauty, grace and purity", while her pomegranate friend Nar is "sun loving and playful", and apparently grew up outside the city of Goychay. Some commenters pointed out that the pomegranate is actually a symbol of Nar Mobile, one of the event's commercial partners.
It's been suggested that the organisers would have been better off taking inspiration from Azerbaijan's rich history, and some Azeris lamented the fact the mascots aren't wearing the colours of the country's flag: blue, red and green. But several voice concerns that there was no open artistic competition to design the mascots - as often happens in other international sporting competitions - and that the organising committee is headed by Azerbaijan's first lady, Mehriban Aliyeva. She also led the organizing committee for the Eurovision Song Contest held in Baku in May 2012.
"The pomegranate looks like a bighead, the gazelle looks like a fox," one comment said on Radio Free Europe's Azeri Service Facebook page. "We neither need this Olympics nor its poorly drawn symbols," said another on the same thread. "To be honest, it simply shames me that such unfortunate illustrations have become the symbols of our Olympics," says a user on the 1news.az Facebook page. "Azerbaijan is a rapidly developing state with one of the most beautiful capitals in the world. Will foreigners associate Baku with this bulb?"
The 2015 European Games, to be held in Baku between 12-28 June, will be the first edition of a multi-sport event involving the National Olympic Committees of 49 nations, including Great Britain. Azerbaijan plans to spend $1.2bn (£762m) on the Games, and about 6,000 are expected to compete.
Use #NewsfromElsewhere to stay up-to-date with our reports via Twitter.