Taiwan: Chinese tourists flock to see elections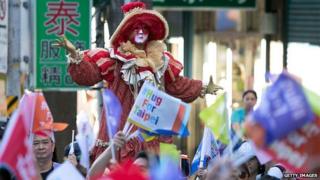 Chinese tourists are flocking to Taiwan to see democracy in action, it's been reported.
Taiwan's local elections for city mayors and other municipal posts are apparently raucous affairs with plenty of shows, food and giveaways, and the 29 November polls have become a tourist attraction for people from mainland China who want to "enjoy the carnival-like atmosphere", Hong Kong daily Ming Pao reports.
There's even a "visitor's guide" to the elections circulating online, with do's and don'ts for those wishing to get a feel for Taiwan's unique electoral culture, Huanqiu Shibao newspaper adds. "If you want to meet a particular political star, go to his or her electoral headquarters. They will give you a detailed itinerary of the candidates' campaign," the guide published by sino.com news portal says. But it also cautions visitors not to help the candidates campaign, warning that they could face deportation if they get too involved. Even wearing green or blue, the colours of the two main political parties, could have unintended consequences.
Taiwan's President Ma Ying-jeou says the tourists are drawn to Taiwan "because there are no such lively elections in the mainland", according to Hong Kong's Apple Daily. In communist China, local posts are generally elected by the People's Congress. Since the 1980s there have been some experiments with direct democracy in villages and townships, but state media regularly highlight incidents of vote buying and bribery in grassroots elections, giving the impression that democracy is a flawed concept.
Use #NewsfromElsewhere to stay up-to-date with our reports via Twitter.