UAE: Residents face laundry, wild animal ban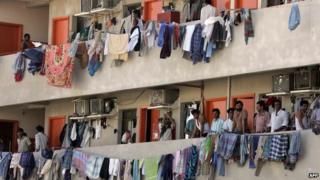 Residents in Sharjah in the United Arab Emirates have been told they can't put out their laundry on balconies nor own "dangerous predator animals", it's been reported.
There's been a two-week campaign in the emirate's largest city, handing out fines of 500 dirhams ($136; £87) for people who "misuse" their balconies for storage purposes, hanging satellite dishes or putting out laundry, the Gulf News reports. Officials say the campaign is not about revenue-raising, but is solely aimed at "maintaining the beauty of the city". Some residents disagree, saying that hanging out their laundry in the sun reduces the carbon footprint of owning a dryer.
Exotic pet owners in the emirate have also received bad news, after Sharjah's ruler Sultan bin Mohammed Al Qasimi issued an order prohibiting possession of "dangerous predators", state news agency WAM reports. According to the Sheikh's ruling, dangerous animals are banned in homes and farms, "whatever the purpose of the acquisition is", with the threat of a 100,000 dirham fine ($27,000; £17,000) hanging over offenders. A 2013 report in The National newspaper said that cheetahs, lions and tigers are readily available to buy in the UAE, and can fetch sums of up to 50,000 dirhams.
Use #NewsfromElsewhere to stay up-to-date with our reports via Twitter.