South Korea: Ministry's 'sexist' interview tips panned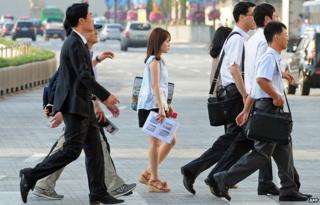 Women in South Korea should tell potential employers they don't mind "casual jokes about sex" in the workplace, according to guidelines from the country's Labour Ministry.
The interview tips offered "ideal answers" to questions women might face in an interview, and were posted on a government-run recruitment information site, the Korea Herald reports. Women were advised to respond to a question about sexual harassment by saying: "It is sometimes necessary to deal with it by making a joke in return." For questions about family life, it was suggested they should lie about any plans to tie the knot because "it is common for female workers to quit their jobs after getting married." As for menial work, women should promise to do their "very best, even if it is just making a single cup of coffee", the guidelines said.
The post has since been deleted after women's rights groups branded it discriminatory. "It is sexist of any employer to only ask women about their plans on marriage and child bearing," the Korean National Council of Women says in a statement. The Korea Times says it's at a "loss for words" in an editorial on the subject, describing the guidelines as "obviously sexist". After removing the offending post, the ministry said it would consider educating its staff about gender equality.
While education levels among Korean men and women are the same with equal numbers holding a university degree, gender inequality in the workplace persists. In 2013, South Korea ranked last among OECD countries for employing women graduates.
Use #NewsfromElsewhere to stay up-to-date with our reports via Twitter.