China: Drunk power plant boss 'causes blackout'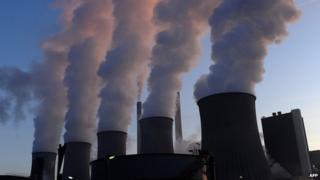 A drunk power station boss plunged a county into darkness after a bar brawl in eastern China, it's reported.
Power was cut to thousands of homes and businesses for six hours in part of Henan province, after a group of power plant employees took issue with staff at a local karaoke joint, the South China Morning Post website reports. The group reportedly smashed up the bar after being refused a free round of drinks. During the melee, one of the officials threatened to "unleash the wrath of the electric tiger", as the state electricity system is known, by cutting the bar's power. They had already enjoyed crates of beer and "several bottles of expensive liquor" during their jaunt, the report says.
Bar staff say they heard one of the men, who said he was the power plant's boss, on the phone asking for the plant to be shut down for repairs. A few minutes later, "half a county was plunged into darkness", the website says. State-owned Hebi City Electricity Supply Company has since apologised for the incident, saying it would learn "profound lessons". The plant's manager has been sacked and another member of staff suspended for two years, the company says, along with fines and warnings for the other brawlers.
Use #NewsfromElsewhere to stay up-to-date with our reports via Twitter.