China: Nomadic herders rely on social networks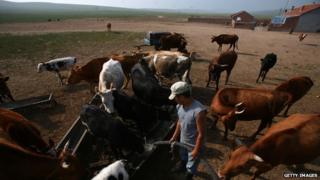 Nomads in northern China are relying on social media to stay connected, it's reported.
Herders in the autonomous Inner Mongolia region are using instant messaging services like WeChat, a service similar to WhatsApp, to advertise the sale of their livestock, state news agency Xinhua reports. "In the past, I had to contact retailers to sell cows, but now business comes to me," Na Sutu tells the agency. It's also handy for finding missing animals. Herders with smartphones no longer have to spend days combing vast areas of grassland searching for livestock. Instead, they can send an instant message to other herders miles away.
As most phones don't have Mongolian-language keyboards, the herders take photos of handwritten notes and upload the images. The popularity and spread of social media means "lives in Mongolian yurts spread across the grassland have been revolutionized," the Xinhua report says. The autonomous region of Inner Mongolia covers about 1.2 million sq km (463,000 sq miles) along China's northern border with Russia and Mongolia. It is home to nearly a third of China's grasslands.
Use #NewsfromElsewhere to stay up-to-date with our reports via Twitter.