Belgium: Donations soar for man who lost car in riots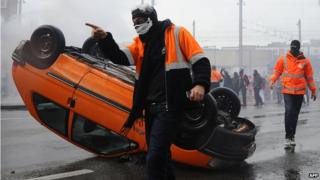 A man whose car was destroyed by anti-austerity protesters has been given the cash to replace it less than a day later, thanks to a crowdfunding website.
Abdeslam Gharrafi watched his Peugeot 106 overturned and set alight by protesters who clashed with riot police in Brussels on 6 November, but says he didn't dare to intervene. "People who do that are capable of anything. I was afraid that they were racist," the electrician tells La Libre website. What followed was a "beautiful story of civic solidarity", the website says.
Advertising executive Bruno Dillen set up a crowdfunding page calling for a new car for Mr Gharrafi, initially hoping to raise 2,000 euros ($2,500; £1,600). But within four hours the page had raised more than 12,000 euros ($15,000; £9,400), with contributions from more than 800 people. "Let's raise enough money for Abdeslam and his family so he too can continue as a hardworking Belgian to make his contribution to this society," the page reads. "Regardless of any political or social vision, we cannot allow individuals to destroy lives and cause polarization to increase even more."
The demonstrations in the Belgian capital were against the new centre-right government's austerity policies. More rallies and strikes are planned in the country, after Prime Minister Charles Michel announced a series of economic and social reforms.
Use #NewsfromElsewhere to stay up-to-date with our reports via Twitter.