Egypt: Artist's 'revealing' paintings combat harassment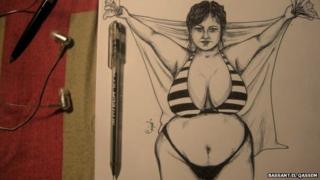 An Egyptian artist is trying to challenge the country's ideas about beauty, by painting plus-size women in revealing clothing.
Bassant El Qassem, 22, launched a campaign after being called fat by a man on the street, and seeing other women called "elephants, pickle barrels and cows" by men shouting out of car windows, she tells The Cairo Post. In 2013 the United Nations said that 99.3% of Egyptian women had experienced sexual harassment. In response, Ms El-Qassem, who considers herself to be of normal weight, started painting larger women in skimpy outfits. She aims to tell women they can be beautiful in outfits they might normally avoid wearing, "even only for themselves". "Girls should be comfortable with their bodies whatever shape or weight they may be," she says. Obesity is common in Egypt, with nearly 70% of the population considered overweight, and rates are higher among women than men.
Ms El Qassem's "Love your body… you are beautiful" Facebook page has more than 22,000 likes, and she plans to exhibit her paintings at Cairo's El Sawy Culture Wheel centre in November. But it hasn't been plain sailing, with some people complaining that her paintings are too sexualised. To that, she responds: "Art is not haram," meaning forbidden by Islam.
Use #NewsfromElsewhere to stay up-to-date with our reports via Twitter.