India: Narendra Modi's face sells Diwali fireworks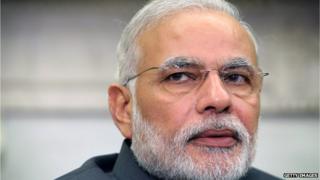 Fireworks bearing the face of the Indian prime minister have been flying off the shelves for Diwali celebrations, it's reported.
The Narendra Modi firework, sold in a packet adorned with an "imposing" image of the premier's face, has "relegated all others to the sidelines" in western Bihar state, the Hindustan Times reports. Diwali fireworks are often marketed using the images of Bollywood stars or cricket players, but using Mr Modi's face has proved just as popular, according to local business owners. "People are going for it in a big way," shopkeeper Sanjay Kumar tells the paper. "We have kept enough stock to ensure we won't run out of supplies."
Twelve varieties of Modi-related fireworks are available for between 200 and 800 rupees ($3-$13; £2-£8). But some flashier fireworks, including the "Modi flowerpot", are on sale for 1,000 rupees ($16; £10), The Times of India reports. "Modi's face embossed on the firecracker packets is making all the difference, and they're flying off the racks,'' says Ketan Patel, a firework seller in eastern Gujarat state. But some social media users are less enthusiastic, taking pot-shots at the Indian leader under the hashtags #FireworksTheseDays and #CelebCrackers. "Manmohan Singh cracker for a noiseless Diwali. Modi charkies [spiral shaped firecracker] - for countless U-turns. #CelebCrackers," says Twitter user Santoesha Bissesar.
Despite many Diwali fireworks being imported from China, those marketed with Mr Modi's image proudly bear the words "Made in India", the Hindustan Times adds. The prime minister reportedly wants to ban the imported Chinese variety to help Indian manufacturers.
Use #NewsfromElsewhere to stay up-to-date with our reports via Twitter.