US professor loses Swiss citizenship bid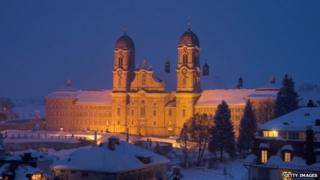 A retired American professor who has lived in Switzerland for nearly 40 years has lost his bid for citizenship because he doesn't know enough about his local town, it seems.
The council of Einsiedeln, a picturesque town with a famous abbey in the canton of Schwyz near Zurich, took half an hour to decide by a clear majority that the professor of chemical engineering "had not sufficiently integrated" into Swiss life. Town Clerk Peter Eberle said the professor "was unable to name the six subdivisions of Einsiedeln County fully, nor give the names of friends and acquaintances in the town at his naturalisation interview. He was also unfamiliar with current political topics in the town," according to 20 Minuten newspaper.
The 75-year-old professor, whom the paper does not name, protests that he has lived in the town since 1975, got married there and brought up three children. He says he is an active member of local sports clubs, and has contributed a great deal to the education of a generation during his work at the Swiss Federal Institute of Technology in Zurich. The council acknowledges that he has good overall knowledge of Swiss life, speaks German well, and is financially solvent, but speculates that he sought citizenship "to obtain personal benefits and guarantees". He accuses the council of "not really trying to find out anything about him".
The professor must pay a hefty 3,600-franc ($3,785; £2,377) administration fee even though his bid failed, although he is free to appeal against the decision within 10 days. Swiss cantons decide matters of citizenship, and do make some local knowledge a requirement. But it could have been a lot worse for the professor - in 2008 Schwyz was the only canton to back a referendum to make citizenship dependent on a vote of the local people.
Use #NewsfromElsewhere to stay up-to-date with our reports via Twitter.