Asian hornets' nest closes Portuguese school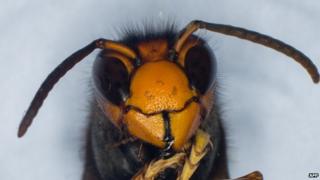 Six hundred pupils were evacuated from a school in Portugal after a nest of an invasive Asian hornet species crashed from a nearby falling tree.
High winds brought the tree down outside Barroselas School in the northern town of Viana do Castelo, injuring one boy. Children gathering at the scene noticed the nest. The fire brigade and gendarmes closed the school as a precaution, as the hornets have a fearsome reputation, TV 24 news channel reports.
Asian Hornets - also known as the Asian predatory wasp (vespa velutina) - are, at 2.5cm (1in), slightly smaller than the European hornet, but have been known to attack humans in defence of their nest, and prey on bees. Native European honey bees have no defences against them, so their appearance in northern Portugal two years ago has caused great concern. Farmers say it is only a matter of time before pollination rates are affected, the television says.
Viana do Castelo Council says the fire brigade has found 448 Asian wasp nests since November 2012, and a full 216 of these in the first eight months of this year. It accuses the agriculture ministry of failing to address the "plague", saying it "continues to display total inability and a certain aloofness in dealing with this serious problem to public health and the local economy". The Lusa news agency contacted the agriculture ministry for comment, without success.
Use #NewsfromElsewhere to stay up-to-date with our reports via Twitter.