Norway: Russia food ban prompts charity cheese bonanza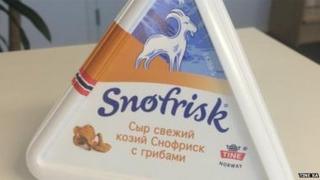 Several tonnes of free cheese have been given away by Norway's largest dairy cooperative, following a Russian import ban.
Trondheim-based Tine has handed a large part of a consignment of Snoefrisk soft cheese originally intended for Russia, to charities for distribution, the Aftenposten daily reports. Produced in July, the batch of had already been packaged for shipping to Russia, and the Cyrillic writing on it made it unsuitable for other markets, according to spokeswoman Veronika Skagestad. "We're against good food being thrown away and thought it would have been wrong if the cheese hadn't been used for human consumption," she says.
Tine says the left-over cheese amounted to 25 pallets - nearly seven tonnes in total. Any cheese not given to charity was handed out to some of the cooperative's 5,000-plus employees across Norway.
In August, Russia banned food imports from Western countries that imposed sanctions on Moscow over the Ukraine conflict. The move has has had a particularly strong impact on trade with Norway. Last month, a Russian fish processing firm took its government to court, saying the ban had ruined its business importing fresh Norwegian fish.
Use #NewsfromElsewhere to stay up-to-date with our reports via Twitter.