New Zealand: Christchurch quake homes 'booby-trapped'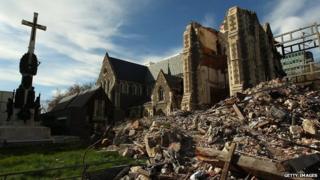 The discovery of a series of booby traps in homes wrecked by the devastating 2011 earthquake in the city of Christchurch has baffled officials in New Zealand, it seems.
Police launched an investigation after traps were found in several buildings in the city's central "Red Zone" that were abandoned after the quake and are due to be demolished, the New Zealand Herald reports. The devices are said to include cage-like devices described as "possum traps" and other home-made contraptions set up at the entrances to the houses. Police believe the aim may be to injure or maim potential intruders. "An attempt has been made to create a hazard for someone entering the building," a spokeswoman said, adding that so far, no perpetrator has been identified.
More than 7,000 properties were declared uninhabitable after the 2011 earthquake, according to TVNZ. Many have reportedly become popular targets for burglars, thieves and arsonists, while some have been taken over by homeless people.
Use #NewsfromElsewhere to stay up-to-date with our reports via Twitter.